We invite you to listen to us on great radio stations across the region on the Radio Oklahoma Network weekdays- if you missed this morning's Farm News - or you are in an area where you can't hear it- click here for this morning's Farm news from Ron Hays on RON.
Let's Check the Markets!
Today's First Look:
mornings with cash and futures reviewed- includes where the Cash Cattle market stands, the latest Feeder Cattle Markets Etc.
We have a new market feature on a daily basis- each afternoon we are posting a recap of that day's markets as analyzed by Justin Lewis of KIS futures- click here for the report posted yesterday afternoon around 3:30 PM.
Okla Cash Grain:
Daily Oklahoma Cash Grain Prices - as reported by the Oklahoma Dept. of Agriculture.
Canola Prices:
Cash price for canola was $6.68 per bushel- based on delivery to the Oklahoma City elevator yesterday. The full listing of cash canola bids at country points in Oklahoma can now be found in the daily Oklahoma Cash Grain report- linked above.
Futures Wrap:
Our Daily Market Wrapup from the Radio Oklahoma Network with Leslie Smith and Tom Leffler- analyzing the Futures Markets from the previous Day.
Feeder Cattle Recap:
The National Daily Feeder & Stocker Cattle Summary- as prepared by USDA.
Slaughter Cattle Recap:
The National Daily Slaughter Cattle Summary- as prepared by the USDA.
TCFA Feedlot Recap:
Finally, here is the Daily Volume and Price Summary from the Texas Cattle Feeders Association.
Your Update from Ron Hays of RON
Friday, December 19, 2014
Howdy Neighbors!
Here is your daily Oklahoma farm and ranch news update.

Featured Story:
Winter rain events are helping Oklahoma's drought situation. In the latest US Drought Monitor report four percent of the state dropped its drought rating in the past week. That means 28 percent of the state is no longer receiving a drought classification. The Drought Mitigation Center reported the couple of inches of rain that fell across eastern Oklahoma recently was a significant moisture event, which improved conditions in the southeast part of the state.


Overall nearly 72 percent of the state remains in drought. The latest report has 5.71 percent of the state in exceptional drought (D4), 15.97 percent in extreme drought (D3), 19.17 percent in severe drought (D2), 20.19 in moderate drought (D1) and 10.93 percent of the state is abnormally dry. According the drought ratings, drought is more widespread and intense across Oklahoma than a year ago.


In the Oklahoma Climatological Survey Mesonet Ticker, State Climatologist Gary McManus said the Climate Prediction Center's one-month outlook is forecasting above normal precipitation and below normal temperatures. The three-month outlook for January through March from the CPC is also calling for above normal precipitation with below normal temperatures. Since this is the driest time of the year, McManus said he does not expect the state will receive drought busting precipitation in the coming months.
Click here to read more about the National Oceanic and Atmospheric Administration's US seasonal drought outlook for Oklahoma.
BY THE WAY- that rainfall in the southeastern third of the state that helped with knocking drought percentages down happened this past Sunday- with the balance of the state measuring rainfall in the tenths from Sunday going forward. Still, with virtually no evaporation- it has been positive in providing some moisture in most areas- here's the map of rainfall that goes back to this past Sunday morning- and you can see where that rain event for southeastern Oklahoma was happening-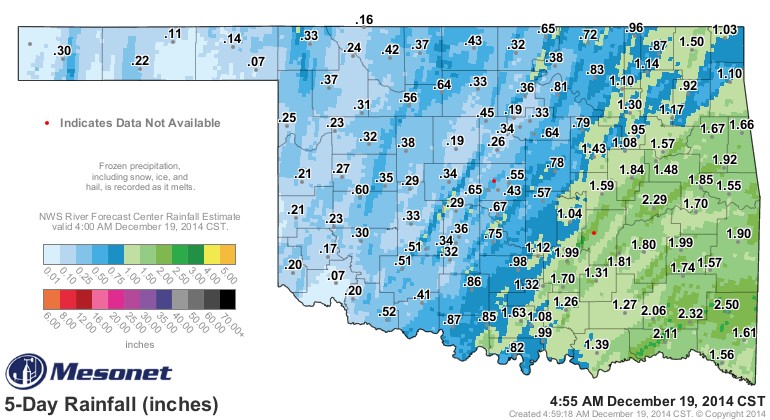 Sponsor Spotlight
The presenting sponsor of our daily email is the Oklahoma Farm Bureau- a grassroots organization that has for it's Mission Statement- Improving the Lives of Rural Oklahomans." Farm Bureau, as the state's largest general farm organization, is active at the State Capitol fighting for the best interests of its members and working with other groups to make certain that the interests of rural Oklahoma is protected. Click here for their website to learn more about the organization and how it can benefit you to be a part of Farm Bureau.
We have appreciated the great support for our email of long time supporter and advertiser as heard on the Radio Oklahoma Ag Network- Stillwater Milling. At the heart of the Stillwater Milling business are A&M Feeds- and for almost a century Stillwater Milling has been providing ranchers with a high quality feed at the lowest achievable price consistent with high quality ingredients. A&M Feed can be found at dealers in Oklahoma, Arkansas, Kansas and Texas. Click here to learn more about Stillwater Milling!
This week authorities from the Oklahoma Department of Agriculture, Food and Forestry, the Oklahoma Department of Wildlife Conservation and local law enforcement conducted a feral swine eradication operation in the panhandle of Oklahoma after feral swine that were illegally transported and released tested positive for pseudorabies. The Law Enforcement Section of ODAFF conducted a criminal investigation regarding the illegal release of feral swine in Beaver County. Beaver County resident, Wesley Dean Kirton has been charged with the following felonies: releasing feral swine into the wild, transporting feral swine without a transporter's license, operating a feral swine handling facility without a license and cruelty to animals. Beaver county District Attorney, James M. Boring, will prosecute for the alleged violations.


In 2008 the Feral Swine Control Act was passed in Oklahoma as a way to address feral swine facility and transporter licensing. Feral swine pose a serious threat to agricultural producers and property. They will eat and destroy crops such as corn, milo, wheat, hay, watermelon and peanuts. Known predators, they will also prey upon young livestock and other small animals.


In addition to the damage feral swine cause they are also known to carry or transmit more than 30 diseases that can be contracted by livestock, people, pets and wildlife. The feral swine that were illegally transported to Beaver County tested positive for pseudorabies which causes particular concern for livestock producers in the area. This area of the state is home to a large commercial swine industry. The State of Oklahoma has eradicated pseudorabies and swine brucellosis from the commercial swine industry but the diseases are still carried and transmitted by the feral swine population. Pseudorabies is a viral disease in swine that that can be transmitted to other mammals including dogs, cattle, sheep, goats, cats and raccoons and is usually fatal in these hosts. Feral swine are also carriers of brucellosis, another dangerous disease that affects both livestock and humans.
Click here for more information regarding feral swine.
The cattle market is wrapping up an incredible year. In looking back at 2014, Oklahoma State University Extension Livestock Marketing Specialist Derrell Peel said one of the aspects of the very strong year for cattle prices in this country are international trade. He said export values are helping underpin the move higher on these overall cattle prices. Similar to domestic demand, the US continues to see remarkable strength for beef exports. For the month of October, year over year, Peel said beef exports were down about three point four percent, but for the year to date, exports were up half a percent, basically unchanged from a year ago. Peel said exports have been up and down over various months.


"The bottom line is, given the prices levels that we are seeing, I think its surprising that exports are holding as well as they are," Peel said.


In terms of exports Peel said it's a mixed bag. Canada is off the most as a major export designation, Japan is slightly lower than a year ago, Mexico is up for the year, while South Korea and Hong Kong are both up strongly for 2014. On a month to month basis, Peel said each one of the countries have had swings in exports being higher or lower than a year ago.
Click here and you can listen to Derrell talk with us about US beef demand drivers and the current and future outlook for Mexican feeder cattle imports.
OKC West Livestock Market, Inc. announced Wednesday that it has entered into a letter of intent with National Livestock. National is an Oklahoma based cattle marketing and financing group that was founded in 1932. Under the letter of intent, National Livestock and other partners will invest in OKC West to expand its operations.


Bill Barnhart, General Manager of OKC West, said, "We are excited about this partnership with National. The deal will expand our capital base and create new opportunities for us to better serve cattlemen in several states. It will also create new opportunities for National to expand the availability of credit to a broader group of cattle producers. We see this as a win-win."


Barnhart indicated that the transaction is expected to close in the second quarter of 2015. Management of OKC West will remain in place.


OKC West Livestock is one of Oklahoma's premier livestock auction facilities located in El Reno, Oklahoma, off Interstate 40.
One Place to Spend End of Year Cash to take Advantage of Section 179- Kubota's Expanded Hay and Forage Line

Kubota continues to expand their offering of products that will work well for farmers and ranchers in the US. The company has long been know for their great tractor line and now some great implements as well. National Product Manager for implements David Palmer said a year ago Kubota announced they were expanding their line with a few products and this year its growing even more with 25 new hay tools ranging from round balers, bale wrappers, disc mower conditioners.


We had the opportunity to visit with Palmer at the recent National Association of Farm Broadcasting Convention.


A year ago, Kubota made their first launch of hay tools. Palmer said their products were well received with a lot of positive feedback from customers. Phase two of the launch will allow Kubota to sell a more comprehensive line for hay producers. The second phase of Kubota branded hay tools will include several sizes of hay balers ranging from the small 4 x 5 economy machine, to the 4 x 5 and 4 x 6 premium variable chamber balers, to four new models of variable chamber round balers, to high end chopper balers and a couple models of bale wrappers. Kubota will also offer a complete range of disc mowers, disc mower conditioners, and a wide range of rakes and tedders.
Click or tap here to hear our conversation with Palmer as he offers more details about the expanding hay and forage line of tools that match up with the Kubota tractor line.
And- to help you find the dealer or dealers closest to you- click here for the Kubota dealer locator.
Endangered Species Protection Sought for Oklahoma's Disappearing Horned Lizards
The Center for Biological Diversity, concerned scientists and a 15-year-old lizard enthusiast filed a formal petition Thursday seeking state endangered species protection in Oklahoma for the Texas horned lizard. Despite their name, these formidable-looking lizards with numerous horns on their heads were once common throughout Oklahoma, but have now nearly disappeared due to habitat destruction, pesticides and introduced fire ants.


"Time's running out for these lizards," said Collette Adkins Giese, a Center biologist and lawyer focused on protecting reptiles and amphibians. "The state of Oklahoma needs to recognize the dire situation these rare creatures are in before it's too late."


The petition documents that the Texas horned lizard has undergone massive declines in Oklahoma and continues to be threatened by loss of habitat and many other factors. Fifteen-year-old Kade Wilson contacted the Center for help in protecting the lizards after learning that a shopping center would be built in a field near his home, where he enjoyed finding the lizards, also known as "horny toads." The lizard is already listed as a "threatened species" in Texas. In both states it is illegal to kill the lizards or collect them for pets. Click here to learn more about the petition for the Texas horned lizard.
Several things to remember as we hit the next to last Friday of 2014-
Christmas is less than a week away. That means lots of things- but I do want to remind all of you husbands about time running short in getting whatever it is that your wife "wants" this Christmas.
As we end this last full week ahead of the Christmas holiday week- livestock auctions are wrapping up for the year today and tomorrow. After regular auctions today at places like Woodward and others- there will be no place to sell cattle until the first full week of January. On our daily radio reports- that means our daily Stocker-Feeder Review will be a lot of "review" about these final sales of this week- and not much else.
Superior Livestock is one of those places where we will have cattle being sold today- that final sale of the year for them starts at 8:00 AM central time- details are here.
Our guest for In the Field this week is the honorable Oklahoma State Secretary of Agriculture Jim Reese- be watching Saturday morning around 6:40 AM on KWTV News9 in Oklahoma City- if you miss it then- it will be available to view on the News9 web site and mobile App- and we will have it on our website as well later in the weekend.
Cattle on Feed numbers will be released by USDA at 2:00 PM central this pm- we plan on having Tom Leffler dissect the numbers for us this afternoon- that will be posted on our website and we will have that analysis featured in our Monday morning email.
It was late when we got the audio from Dr. Kim Anderson of Oklahoma State that will be heard and seen Saturday and Sunday on SUNUP this weekend- we will post it a little later this morning on our website- so you will be able to hear it there- we will post it as our Top Ag Story this morning so it will be easy to find if you want to hear his comments ahead of the weekend.
We will also have the full rundown of the show at that time- but two features I will mention to you besides the always wonderful comments of Dr. A- our friend Glenn Selk dusts off the research that he has done on the ability of reindeer to fly- especially on Christmas Eve- and then there will be an encore of Burns Hargis reciting a Cowboy Christmas.
God Bless! You can reach us at the following:

phone: 405-473-6144
Oklahoma Farm Bureau is Proud to be the Presenting Sponsor of the Ron Hays Daily Farm and Ranch News Email