We invite you to listen to us on great radio stations across the region on the Radio Oklahoma Network weekdays- if you missed this morning's Farm News - or you are in an area where you can't hear it- click here for this morning's Farm news from Ron Hays on RON.
Let's Check the Markets!
Today's First Look:
mornings with cash and futures reviewed- includes where the Cash Cattle market stands, the latest Feeder Cattle Markets Etc.
We have a new market feature on a daily basis- each afternoon we are posting a recap of that day's markets as analyzed by Justin Lewis of KIS futures- click here for the report posted yesterday afternoon around 3:30 PM.
Okla Cash Grain:
Daily Oklahoma Cash Grain Prices- as reported by the Oklahoma Dept. of Agriculture.
Canola Prices:
Cash price for canola was $6.10 per bushel- based on delivery to Oklahoma City (per Oklahoma Dept of Ag).
Futures Wrap:
Our Daily Market Wrapup from the Radio Oklahoma Network with Leslie Smith and Tom Leffler- analyzing the Futures Markets from the previous Day.
Feeder Cattle Recap:
The National Daily Feeder & Stocker Cattle Summary- as prepared by USDA.
Slaughter Cattle Recap:
The National Daily Slaughter Cattle Summary- as prepared by the USDA.
TCFA Feedlot Recap:
Finally, here is the Daily Volume and Price Summary from the Texas Cattle Feeders Association.
Your Update from Ron Hays of RON
Tuesday, February 24, 2015
Howdy Neighbors!
Here is your daily Oklahoma farm and ranch news update.

Featured Story:
More than a half-million students in all 50 states will share the importance of agriculture in our daily lives, spread their passion for agriculture and host communitywide events to help others in need this week.


It's National FFA Week and a host of activities are planned to raise awareness about the National FFA Organization and the role it plays in the development of the agriculture industry's future leaders and the importance of agricultural education.


The week-long tradition started in 1948. Each year, National FFA Week runs Saturday to Saturday, encompassing President George Washington's Feb. 22 birthday in recognition of Washington's legacy as an agriculturist and farmer.


FFA was founded by a group of young farmers in 1928. Its mission is to prepare future generations for the challenges of feeding a growing population. Since the founding members the organization has taught generations that agriculture is more than planting and harvesting - it involves science, business and much more.


The FFA continues to help the next generation rise up to meet new agricultural challenges by helping members develop their own unique talents and explore their interests in a broad range of career pathways. Members prepare for careers as biologists, chemists, veterinarians, engineers and entrepreneurs.


National FFA Week is sponsored by Tractor Supply Co., National FFA Week activities can be followed on Twitter at #FFAweek. To read more about National FFA week, click here.

Sponsor Spotlight
The presenting sponsor of our daily email is the Oklahoma Farm Bureau - a grassroots organization that has for it's Mission Statement- Improving the Lives of Rural Oklahomans." Farm Bureau, as the state's largest general farm organization, is active at the State Capitol fighting for the best interests of its members and working with other groups to make certain that the interests of rural Oklahoma are protected. Click here for their website to learn more about the organization and how it can benefit you to be a part of Farm Bureau.


We are proud to have KIS Futures as a regular sponsor of our daily email update. KIS Futures provides Oklahoma farmers & ranchers with futures & options hedging services in the livestock and grain markets- click here for the free market quote page they provide us for our website or call them at 1-800-256-2555- and their iPhone App, which provides all electronic futures quotes is available at the App Store- click here for the KIS Futures App for your iPhone.
Farmers have until Friday to update their yields and reallocate their base acres and just over a month to make their Farm Bill safety net program decisions. Oklahoma State University Ag Economist Eric DeVuyst said farmers need to look at both the Agricultural Risk Coverage (ARC) and the Price Loss Coverage (PLC) programs because there is no easy, clear cut decision.


DeVuyst said the ARC-County program will give farmers some yield and price protection, but it is based on county level revenues and it's a five year moving average. He said that program drops out the high and the low average over those five years to average the remaining three years. DeVuyst said if a farmers has successive years of low prices and low yields that will lower the benchmark and the maximum program payment. He said consecutive years of drought will negatively affect that benchmark.


PLC offers price protection and the 2014 Farm Bill set the reference prices. If a farmer has peanut base acres, DeVuyst said you probably don't want to reallocate those acres and choose to enroll in PLC. He said the program offers an attractive target price to the current market price for peanuts. He said there is one negative aspect of PLC. If the drought spreads more nationally, then a producer could see poor yields with a high marketing prices. DeVuyst said so farmers end up with no safety net in that case.


Landowners have until this Friday to decide if they will reallocate their base acres and to consider updating their yields. To read or to listen to our interview as we discuss these options, plus what producers need to do before they go into the FSA office, click here.
Peel Says U.S. Meat Markets Struggling Dollars
Derrell S. Peel, Oklahoma State University Extension Livestock Marketing Specialist, writes in the latest Cow/Calf Corner newsletter.


A myriad of factors are joining forces to create significant challenges for beef, pork and poultry markets so far in 2015. These include supply and demand factors, domestic and international factors, and short and long term factors. Many of the factors are affecting all meat markets while others are specific to individual meats.


International demand for U.S. meat is being dampened by the strong dollar, which makes U.S. product more expensive in global markets. This is particularly challenging for beef, which is already high relatively to other meats due to limited supplies. In the case of pork, falling U.S. prices due to increased production are offset to some extent in international markets by the strong dollar. Meat exports are being further disrupted by the backlog at west coast ports. The inability to move perishable product out of the ports has resulted in reduced export demand and diversion of meat back into domestic markets. Cold storage holdings of red meat and poultry were up significantly in January, partly as a result of the port slowdown. Settlement of the labor dispute this past week will improve conditions but it will take several weeks for port operations to return to normal. Simultaneous to reduced export flow of meat, a series of severe winter storms has crippled population centers in the eastern U.S. disrupting normal meat shipments and reducing meat demand domestically.

To read more analysis from Dr. Peel on the pork and poultry sectors, along with the challenges for the beef industry, by clicking here.
The Oklahoma Department of Agriculture, Food and Forestry is already making preparations for a revenue shortfall. Last week the Board of Equalization approved revenues available for Fiscal Year 2016 discretionary appropriations of $6,601,534,037, which is $611.3 million, or 8.5 percent, less than was appropriated for FY 2015, for the current fiscal year ending June 30.


Jim Reese, Secretary and Commissioner of Agriculture said his department is ready to deal with the situation as the state has already seen several years similar to this one, such as 2010, 2011, and 2012 without any new revenue. He said they will be more frugal and are planning for a reduction of funds from the state for next year.


Reese said last year's budget will be fully fulfilled, so funding will adequate for this year, but he knows any money that can be saved this year will help out the budget situation next year. Reese said right now they are looking at a five to ten percent cut potentially for Fiscal Year 2016, which begins July 1, 2015.

With the start of Governor Mary Fallin's second term, Reese said the department has set four strategic goals. Our webstory is available here where you can read or to listen to my interview with Reese about the budget woes and the goals of the department.
It's time for producers to check their wheat pasture for first hollow stem. Oklahoma State University Small Grains Extension Specialist Dr. Jeff Edwards says first hollow stem is the optimal time to remove cattle from wheat pasture. The First Hollow Stem Advisor on the Oklahoma Mesonet indicates that early wheat varieties in southern Oklahoma are likely past first hollow stem and that early varieties in central Oklahoma will reach this point soon.


First hollow stem occurs just prior to jointing and is the optimal time to remove cattle from wheat pasture. First hollow stem usually occurs in mid to late February in southern Oklahoma and early March in northern Oklahoma. Grazing past first hollow stem can reduce wheat grain yield by as much as 5% per day and the added cattle gains are not enough to offset the value of the reduced wheat yield.


Similar to previous years, OSU will monitor occurrence of first hollow stem in their wheat plots at Stillwater. There is also a new first hollow stem advisor available on the Oklahoma Mesonet that can assist in determining when to start scouting.


Checking for first hollow stem is fairly easy. To read more, click here.
Want to Have the Latest Energy News Delivered to Your Inbox Daily?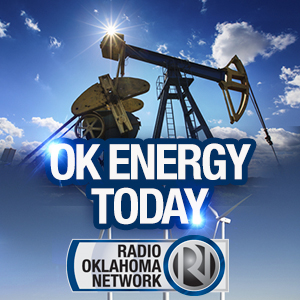 Award winning broadcast journalist Jerry Bohnen has spent years learning and understanding how to cover the energy business here in the southern plains- Click here for Jerry's website where there is a link on the Left Hand Column where you can subscribe to his daily update of top Energy News.
Superior Video Livestock Auctions is taking their show on the road this week to Oklahoma City. Their next sale will be on Friday, February 27 at Heritage Place. Auctioneer Charly Cummings said it's a great venue and they invite everyone to see the auction live and in person.


Superior Auction has 29,500 head of dairy and beef cattle consigned. The event will begin with Superior Sunrise at 7:30 with the auction beginning at 8 a.m. with 1,600 Holsteins and Jerseys, 11,000 feeder steers, 4,300 feeder heifers, 10,000 weaned calves and the auction will finish up the 700 bred females, cows and cow-calf pairs.


Cummings invites cattle producers to see the auction first hand and he how they serve their customers. He said he knows everything happens pretty fast as it takes about a minute and half to sell each lot. He finds producers are shocked to watch and see how many cattle are sold throughout the day. We talked with Cummings about the upcoming sale and the Heritage Place location on South MacArthur in Oklahoma City- you can listen to our conversation by clicking here.
This N That- Rising Beef Primal Cut Prices a Sign of Spring???; Cotton Meeting in Central Oklahoma and Get Ready for Our Tweets
The latest Weekly Boxed Beef Trade report from Ed Czerwein of the USDA Market News office in Amarillo suggests a sign of spring can be found in the latest beef prices- even as most of Oklahoma lies under a white blanket of snow.
Czerwein says that beef rib and loin primal cuts were $2 to $5 higher in this past week- and that "the big item to watch in the upcoming months will be the rib and loin primal cuts that usually see a good increase as we approach the spring grilling season and they are starting to make that move."
Ed's complete report can be read or heard on our website- and is available here.
**********
Kyle Worthington is the new Ag Agent for OSU Extension in Canadian County- and he dropped us a last minute reminder about a meeting he has put together for this week regarding cotton production in Central Oklahoma. Kyle writes "
The Central Oklahoma Cotton Production meeting is scheduled for Wednesday, February 25 at the Canadian County Fairgrounds Education Building in El Reno, Ok.
"Those attending the luncheon need to RSVP by 12:00 noon Tuesday, Feb. 24(TODAY!). The Luncheon begins at 11:30 a.m. and the Cotton Production meeting begins at 12:30 p.m. For more information contact the Canadian County OSU Extension Center.
**********
We will be heading to warmer climes for the next couple of days as we hit Phoenix for a couple of events- first the annual Bayer Crop Science Ag Issues Forum this afternoon and tomorrow- and then we shift gears for the 2015 Commodity Classic- the joint meeting/trade show for Grain Sorghum, Wheat, Corn and Soybean producers.
We will be having reports from these events- starting tomorrow morning. But if you want to jump start the flow of information that you can see from these meetings- search for the following hashtags from us and others on TWITTER-
For the Ag Information Forum- we'll be using #AIF15 and for Commodity Classic- the preferred hashtag will be #Classic15.
Our thanks to
Midwest Farms Shows
,
P & K Equipment
,
American Farmers & Ranchers
, CROPLAN by Winfield,
KIS Futures
, Stillwater Milling Company, Pioneer Cellular, National Livestock Credit Corporation and the Oklahoma Cattlemen's Association for t
heir support of our daily Farm News Update. For your convenience, we have our sponsors' websites linked here- just click on their name to jump to their website- check their sites out and let these folks know you appreciate the support of this daily email, as their sponsorship helps us keep this arriving in your inbox on a regular basis- FREE!
We also invite you to check out our website at the link below to check out an archive of these daily emails, audio reports and top farm news story links from around the globe.
God Bless! You can reach us at the following:

phone: 405-473-6144
Oklahoma Farm Bureau is Proud to be the Presenting Sponsor of the Ron Hays Daily Farm and Ranch News Email