We invite you to listen to us on great radio stations across the region on the Radio Oklahoma Network weekdays- if you missed this morning's Farm News - or you are in an area where you can't hear it- click here for this morning's Farm news from Ron Hays on RON.
Let's Check the Markets!
Today's First Look:
mornings with cash and futures reviewed- includes where the Cash Cattle market stands, the latest Feeder Cattle Markets Etc.
We have a new market feature on a daily basis- each afternoon we are posting a recap of that day's markets as analyzed by Justin Lewis of KIS futures- click here for the report posted yesterday afternoon around 3:30 PM.
Okla Cash Grain:
Daily Oklahoma Cash Grain Prices- as reported by the Oklahoma Dept. of Agriculture.
Canola Prices:
Cash price for canola was $6.09 per bushel- based on delivery to the Oklahoma City elevator yesterday. The full listing of cash canola bids at country points in Oklahoma can now be found in the daily Oklahoma Cash Grain report- linked above.
Futures Wrap:
Our Daily Market Wrapup from the Radio Oklahoma Network with Leslie Smith and Tom Leffler- analyzing the Futures Markets from the previous Day.
Feeder Cattle Recap:
The National Daily Feeder & Stocker Cattle Summary- as prepared by USDA.
Slaughter Cattle Recap:
The National Daily Slaughter Cattle Summary- as prepared by the USDA.
TCFA Feedlot Recap:
Finally, here is the Daily Volume and Price Summary from the Texas Cattle Feeders Association.
Your Update from Ron Hays of RON
Thursday, May 21, 2015
Howdy Neighbors!
Here is your daily Oklahoma farm and ranch news update.

Featured Story:
The House Agriculture Committee Wednesday approved H.R. 2393, a bill to amend the Agriculture Marketing Act of 1946, by a recorded vote of 38-6. A combination of 68 Democrats and Republicans joined Chairman Mike Conaway in introducing this bipartisan bill that will effectively repeal country of origin labeling requirements for beef, pork, and chicken, while leaving intact the requirements for all other covered commodities. The earliest floor consideration for this bill will be in early June- as the Congress is ready to head home for the Memorial Day recess.


"This bill is a targeted response that will remove uncertainty and restore stability for the United States by bringing us back into compliance," Chairman Conaway said. "We must do all we can to avoid retaliation by Canada and Mexico, and this bill accomplishes that through full repeal of labeling requirements for beef, pork, and chicken. I appreciate all the support from my colleagues on both sides of the aisle. We will continue working to get this to the House floor as quickly as possible to ensure our economy and a vast range of U.S. industries and the men and women who work for them do not suffer any economic implications of retaliation." Click here to read more about the vote from the House Ag Committee.

House Ag Committee Ranking Member Collin C. Peterson disagrees with repeal of COOL. "Of course no one wants to see retaliation but it's important to point out that there are still several steps that have to occur before that would take place," Peterson said. "Given what we have seen in the past - it took 15 months for the Arbitration Panel to issue a ruling in the U.S.-Brazil cotton case - it's unlikely the Panel will rule on COOL retaliation within their 60 day window." Click here to read more from Peterson.


National Cattlemen's Beef Association President and Chugwater, Wyoming, cattleman Philip Ellis applauded today's action. "I thank Chairman Conaway (R-Texas), Rep. Costa (D-Cali.), and their colleagues for the swift introduction of this legislation and today's passage," said Ellis. "Following the WTO's ruling Monday, the next step for Canada and Mexico is retaliation, which could take place as early as this summer. The time to negotiate and consider alternatives is long past; COOL has been around in one form or another for over a decade without benefit, and now is time to act to repeal this broken legislation. We ask the full House to take up this legislation as soon as possible, as it is the only way to avoid retaliation."


The National Pork Producers Council also supports repeal. NPPC President Ron Prestage, a veterinarian and pork producer from Camden, S.C., said, "We must avoid retaliation from our No. 1 and No. 3 export markets, and quick passage of H.R. 2393, followed by immediate action in the Senate, will ensure that U.S. jobs and the American economy will not suffer the negative effects of tariffs." Click here to read more from NPPC.

R-CALF USA called repeal nothing more than a Siren call by the one percent. "This is proof that Conaway's bill is not a 'targeted response' to the WTO; but rather, Conaway is exploiting the WTO ruling to support the multinational meatpackers' decade-long effort to hide the origins of food from consumers," said R-CALF USA CEO Bill Bullard. The complete reaction from Bill Bullard is available here.
Sponsor Spotlight
Oklahoma Farm Report is happy to have WinField and their CROPLAN® seed brand as a sponsor of the daily email. CROPLAN® by WinField combines high performing seed genetics with local, field-tested Answer Plot® results to provide farmers with localized management strategies that incorporate seed placement, proper nutrition and crop protection product recommendations based on solid data. We have planted nine Answer Plot® locations in the Southern Plains region this growing season, showcasing winter canola and winter wheat. Talk to one of our regional agronomists to learn more about canola genetics from CROPLAN® by WinField, or visit our website for more information about CROPLAN® seed.
We are also pleased to have American Farmers & Ranchers Mutual Insurance Company as a regular sponsor of our daily update. On both the state and national levels, full-time staff members serve as a "watchdog" for family agriculture producers, mutual insurance company members and life company members. Click here to go to their AFR website to learn more about their efforts to serve rural America!
According to a statement that can be found on the Canadian embassy's website, they are more than ready to move the COOL case to a point of retaliation- in hopes of forcing the US Congress to face up to the disruptions caused by the rule. that page says "The United States and Canada are natural partners in agriculture. Thanks to our shared standards and the successful integration of our supply chains we trade 50 Billion dollars bilaterally in food and agricultural commodities each year. Mandatory Country of Origin
"Labeling - or COOL - has disrupted U.S. supply chains leading to significant costs and inefficiencies. The World Trade Organization has - in multiple rulings - found mandatory COOL to violate the international trade obligations of the U.S. Following the final U.S. appeal, Canada will soon be authorized to retaliate against U.S. commodities. Find out more by referencing our one page (PDF) which highlights how COOL negatively impacts both Canada and the U.S., and find out more how your state's economy is supported by agricultural trade with Canada and could be impacted by possible retaliation. Let's support jobs, families and communities by fixing COOL."


Canada is Oklahoma's third largest export market. Retaliation would target $21 million of Oklahoma's exports. Click here to read the full report for Oklahoma.


Click here to find links to all of the state reports.
Keep in mind that these details of retaliation come from Canada only- and do not reflect the impact of similar retaliation coming from Mexico.
U.S. Agriculture Secretary Tom Vilsack Wednesday announced USDA's plan to implement a Farm Bill provision that will have a major policy impact on the way the Department helps rural communities plan and finance regional economic development strategies. The new Regional Development Priority (RDP) policy will make it easier for rural communities to access resources to invest in long-term community development efforts by giving priority to applications for Rural Development programs that include regional partnerships and strategies.


"Regional planning maximizes the effectiveness of our investments in rural America," Vilsack said while addressing the 10th Annual Organization for Economic Cooperation and Development (OECD) Conference. "When communities come together to share resources, ideas and expertise, they can develop a cohesive economy strategy and invest in their future. With a strategy in place, USDA-funded projects can spur regional economic transformation, increase job opportunities and improve quality of life for rural communities."


Under the RDP, communities with multi-jurisdictional economic development plans will be able to request funding priority when they apply for loans and grants in four key USDA programs. These programs help finance a variety of infrastructure, business and community development needs. They are: Community Facilities Program, Business & Industry Loan Guarantee Program, Water and Environmental Program and Rural Business Development Grant Program. Click here to read more about this funding priority.
Agriculture has to adapt to the changing needs of consumers. This week, at the 2015 REBELation Conference put on by Alltech, the focus was on meeting the needs of today's ever-changing consumer in addressing sustainability, reducing antibiotics in animal agriculture, along with making consumers feel warm and fuzzy. One of the speakers was Dave Langert of the Green Biz Group. He formerly served as their vice president of sustainability for McDonald's- having just retired from the Golden Arches back in March. During his presentation he discussed beef and poultry sustainability. He said cattle producers need to understand that consumers today are very interested in feeling good about the products they are eating.


"So that term 'feeling good', companies are translating that into different things," Langert said. "Nobody is knocking on McDonald's doorstep saying we want a sustainable Big Mac, but they are knocking on the doors of McDonalds and all these other companies saying hey we want your food (to know), where it comes from, to be grown responsibly, raised reasonability and you show it to me and every company is approaching probably differently, but with the same concept in mind."


This concept reflects the changing attitudes of consumers. Some of this change can be attributed to the millennial generation, but Langert said this idea is bigger than any particular generation. He said the research has found this change is being driven by the "aspirationals". This is a segment of the population that totals more than two billion people worldwide and this group spans more than a single generation. He said this group loves to spend money and use their wallets or purchasing dollars to make a difference.
Click here to jump over to our webstory on today's Beef Buzz with Langert- read more or take a listen!
One of the best tools ag producers have today to connect with consumers is social media. Ryan Goodman has had an active role in bridging the gap between producers and consumers through Facebook, Twitter and blogging. An effort he calls very important in the age of real time media.


"Consumers are more concerned and talking more about their food than they ever have been," Goodman said. "So it's critically important that those of us in agriculture take part in the conversations, because we've heard it said, if we're not at the table, not at the conversations, we might be on the menu. I think those conservations are definitely going to happen, whether or not we're there."


Goodman aims to bridge the conversation between those producing food and those consuming it by being able to facilitate conversations and inspire learning about food as well as the people that are eating it. In talking with consumers, he finds they have a lot of questions about technology in food production.


I caught up with Ryan Goodman this week in Lexington, Kentucky at the 2015 Rebelation Conference put on by Alltech. Click or tap here to listen to the full conversation.


Click here to read Ryan's blog "Agriculture Proud".

Want to Have the Latest Energy News Delivered to Your Inbox Daily?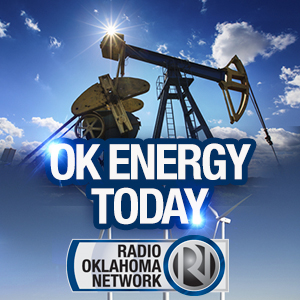 Award winning broadcast journalist Jerry Bohnen has spent years learning and understanding how to cover the energy business here in the southern plains- Click here to subscribe to his daily update of top Energy News.
The Oklahoma Wheat Commission will hold an election to fill the District V board seat. The election will be held TODAY at 1 p.m. at the Pioneer Technology Center in Ponca City, Oklahoma. The district covers the eastern half of the state. District V consists of all counties east of the Western boundary lines of Kay, Noble, Logan, Oklahoma, Cleveland, Grady, Stephens and Jefferson counties.


All wheat producers within District V boundaries who are actively engaged in wheat production, have marketed wheat, and have paid a checkoff fee and left that fee with the Commission for the current year are eligible to vote. It will be the responsibility of the producer to prove their eligibility to vote by providing a dated grain elevator receipt including the producer's name and amount of wheat sold, and a driver's license or some other form of identification.


Candidates wishing to run in the election must be at least 25 years old, a resident of Oklahoma, engaged in growing wheat in the state for at least five years and must derive a substantial portion of his/her income from growing wheat.


At that election, the top three nominations will be sent to the Governor of Oklahoma. Governor Mary Fallin will appoint one person to serve a five year term with the Oklahoma Wheat Commission. it's interesting to note that this will be the final election where a board member will be chosen by the governor- as the Commission come out from under full state government control July first.


The Commission's vacancy meeting, which is open to the public, will begin at noon. The election will begin promptly at 1 p.m. Lunch will be provided at noon by the Oklahoma Wheat Growers Association. I interviewed Oklahoma Wheat Commission Executive Director Mike Schulte about the election. Click here to listen to the full interview.
Coming Friday- The May Cattle on Feed Report Plus Superior Livestock's Latest Video Livestock Auction
The next regular USDA Cattle on Feed report will be released on Friday afternoon, May 22nd, at 2:00 PM central time. Rich Nelson with Allendale has offered the following thoughts and predictions regarding both the Cattle on Feed report, as well as the Cold Storage report that will be released at the same time.

"April Placements are expected to be 2.6% higher than last year at 1.679 million head. This is just over the five year average for April of 1.641. USDA's cattle feeding margin ended the month with a $169 per head loss on outgoing cattle. This would be five months in a row of losses. Corn averaged $3.80 in Western Kansas in April ($3.90 in March, $5.02 in April 2014). April placements supply the September through November slaughter period.

"Allendale anticipates a Marketing total 8.0% lower than April 2014. There was no calendar adjustment this month. Our 1.636 million head estimate is the smallest April marketing since the current data-series started in 1996.

"Total Cattle on Feed as of May 1 is 1.0% higher than last year. That is an increase from the April 1 total that was equal with last year."
Click here to read Nelson's comments on the Cold Storage numbers that will be out tomorrow afternoon as well.
**********
The next regular Superior Video Livestock Auction is taking place at 8:00 AM central time tomorrow morning- May 22nd on both DISH Network's Channel 232 as well as on the internet at this Superior Click to Bid webpage.
There will be 20,200 to be sold tomorrow- including:
2,100 HOLSTEINS
4,150 YEARLING STEERS
2,600 YEARLING HEIFERS
5,500 WEANED CALVES
5,700 CALVES ON COWS
150 BRED STOCK & WEIGH COWS
For more information- you can call Superior at 1-800-422-2117 or go to their main website by clicking here.
God Bless! You can reach us at the following:

phone: 405-473-6144
Oklahoma Farm Bureau is Proud to be the Presenting Sponsor of the Ron Hays Daily Farm and Ranch News Email